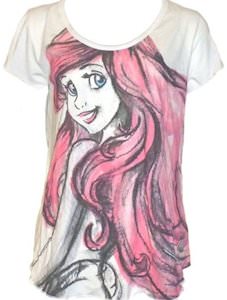 Who is your favourite Disney princess? If it is Ariel from the Disney movie " The Little Mermaid " then you will love this Ariel shirt.
This uniquely designed Little Mermaid Ariel shirt has a vintage print of the beautiful Ariel with her flowing long red hair covering the whole front of the shirt. On the bottom  at the back of the shirt is designed in the shape of a mermaids tail.
This Ariel t-shirt is made from a cotton/polyester blend and comes is sizes Small to XL. The sizing in made for juniors but it makes for a generous fit so women can order it one size up to fit.
You will feel like a Disney Princess yourself when you wear The Little Mermaid Ariel T-Shirt.