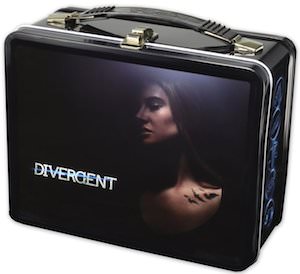 This Divergent lunch box is almost to nice to use.
On one side (see picture) you can see Tris complete with her raven tattoo's and on the other side it has a picture of Tobias (Four) and each side also has the Divergent logo. On the side of the lunch box you can find the symbols from all the fractions.
And in this metal Divergent lunch box you find a matching thermos so that you can even have a drink with you lunch. The thermos is nicely kept in place inside the lunch box by a metal arm. And the top of the Divergent themes also doubles as a cup.
Now bringing you own lunch to school or work becomes fun again as this is the coolest lunch set out there.
Come have a closer look at the Divergent Lunch Box With Thermos.