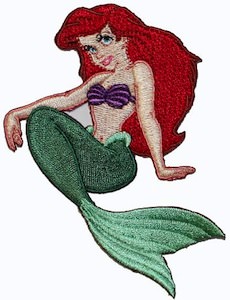 There is your favorite Disney princess Ariel still as mermaid just like we have seen her in the Little Mermaid movie.
And now you can have the Little Mermaid on your clothes or bags as this picture of Ariel is an embroiderd patch that you can sew or iron on to clothes or other fabrics like back packs or jackets.
This amazing looking Princess Ariel patch will make you kids so happy when they see there new clothes with Ariel.
Time to have a better look or to order your own Princess Ariel Patch Of The Little Mermaid.