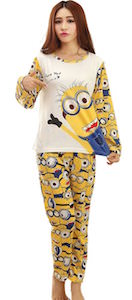 Of course you love those funny yellow creatures called Minions and I am sure that you will sleep so much better if they where watching you.
And now there is this women's pajama with Minions all over them.
The pajama pants and the arms of the pajama are covered in picture of the yellow creatures and on the front you can see one big Minion holding up his hand and above that it says "Love you forever".
If you like a good night rest and love to dream about adventures with Minions then there is simply only one thing you need and that are these cute Minion Pajamas.