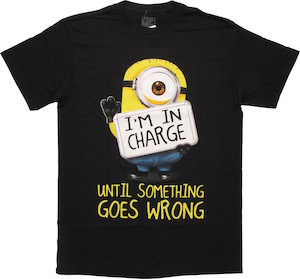 We all know that Minions are a strange kind of creatures that are often the reason why things go wrong.
On this black Minion t-shirt you can see a Minion holding up a sign that says "I'm in Charge" and that is already something that frightens me but the text below it makes it worse, there is says "Until something goes wrong" and we all know something will go wrong.
This fun Minion t-shirt comes in sizes Small – 2XL and is made from 100% cotton.
Wearing this t-shirt will bring smiles on people's faces and maybe it will warn people not to let Minions in charge.
You may also like: