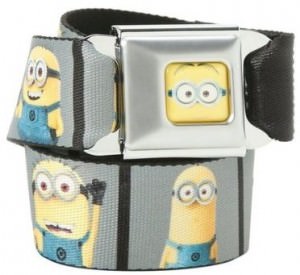 The little yellow Minions are always ready to help, now they are here to help you keep your shorts or pants up with a cool belt.
On this belt you will see many different images of the fun little yellow Minions from the classic series of movies Despicable Me and Minions, find each Minion in it's own square like a photgraph and perhaps you see Stuart, Kevin or Bob.
This Minion belt is adjustable to many sizes so all can enjoy the fun and unique belt, it is a seat belt style belt that easily snap fastens and releases with a push of a button just like a seatbelt.
Check out the Despicable Me Minion Photos Seat Belt Style Belt.