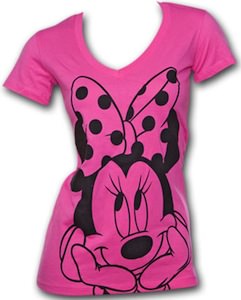 This hot pink Minnie Mouse t-shirt will make people smile and make you feel happy all day long.
On this t-shirt you see a picture of Minnie Mouse with a big bow in her hair and her face resting in her hands and she has a beautifull smile.
This Minnie Mouse t-shirt is a junior fit making it work really nice with you body shape.
And this Disney t-shirt comes in a wide range of adult women's sizes.
Come check out this Minnie Mouse Big Smile T-Shirt.