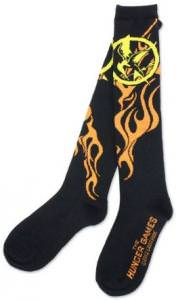 The Hunger games movie is based on the best seller book, and this pair of knee high socks is based on both.
Check out these socks, with a large mockingjay logo and flames surrounding it and in the background, also find "THE HUNGER GAMES 2012 LIONSGATE" printed on the bottom of the sock.
A high quality NECA product this is the perfect gift to yourself or for any Hunger Games fan, they are very comfortable and are made to be long lasting.
Put on a pair of The Hunger Games Mockingjay Flames Socks.