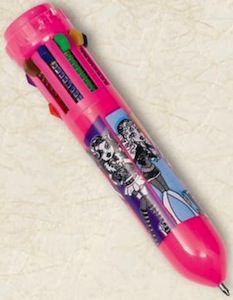 Why have a pen that only writes in one color when you can have one that does 10 colors?
And if you where still thinking that 1 is better then 10 then also think that this pen is a Monster High pen.
So a Monster High pen that can write in 10 different colors just by selecting the color and you are good to go.
This pink pen has all kind of pictures of Monster High characters on it.
Now school becomes so much easier as you can write surtain notes in different colors so that they are easy to find.
Put this Monste High 10 color pen on your back to school list.
If you can't wait till back to school shopping then come and order your Monster High 10 Color Pen.