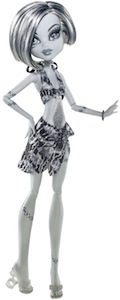 Spring break time should be fun time and this time the girls from Monster High are going on island adventures.
As you can see Frankie Stein is all dressed for the beach in her bathing suit. Maybe by now you notice something different on the picture of the Franie doll.
Yes it is in black in white, this special Frankie Stein doll is black and white and even the box it comes in does not have any color.
This makes it a very special doll for a Monster High collector.
The Frankie Stein doll is based on the Skull Shores episode and of course that is something you want to own a part off.
So come and have a closer look at this Monster High Skull Shores Frankie Stein Doll.