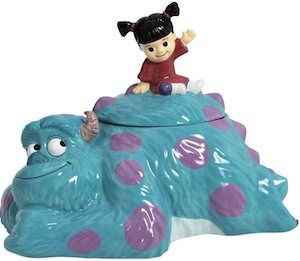 We all love cookies but do you dare eating them out of a cookie jar that looks like a monster?
OK the cookie jar looks like Sulley from Monsters Inc. so yes I would dare to take a cookie.
The cookie Jar is shaped like Sulley with his fun color and purple spots and on his back you can see Boo and she is actually the handle of the lid of the cookie jar.
This is a ceramic cookie jar made by Westland Giftware witch is known for their amazing cookie jars.
If you are looking for the perfect cookie jar then you have to check out this Monsters Inc. Sulley And Boo Cookie Jar.