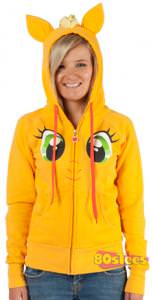 Look like the fun My Little Pony character Applejack with this unique and super cool hoodie.
Features the yellow color of Applejack with a large face on the front, with big friendly green eyes and beautiful long eye lashes and the side has the cutie mark of three apples printed, you are sure to charm with this hoodie on.
Now the really cool feature of this hoodie, check out the hood with fun ears that stick up and a full mane that screams out for attention turning you into Applejack.
Other awesome features of this hoodie is the zipper clasp has one of Applejack's cutie mark apples and the stitching on the inside has Applejack written on it, this is a quality hoodie and is available in a wide variety of sizes..
Show some good old country charm with the My Little Pony Applejack Hoodie.