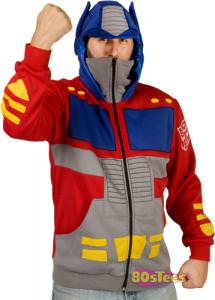 Don't just throw on a plain boring hoodie when you can put on a hoodie that literaly transforms you.
This is a hoodie that features the leader of the Transformer Autobots, Optimus Prime, with so many fine details like the colors and patterns to make windows, lights and grill aswell as a hood that has two pointy antennae sticking up.
Made to be very warm and really durable you can get this Transformers Optimus Prime hoodie in many sizes, also features two large front pockets a full zipper front that zips half way up your face to keep out the cold.
Tranform with the Transformers Optimus Prime Hoodie.