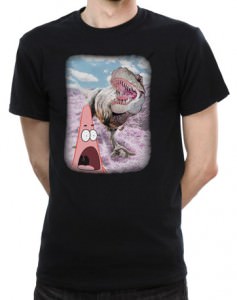 He may not have much common sense and he may be a little dimwitted but even Patrick Star knows to be scared of the Tyrannosaurus Rex. I wonder if SpongeBob SquarePants will come to his rescue, being his best friend and all.
This black t-shirt looks like one blurred movie slide with a T-Rex in the background and Patrick Star's face in the forefront screaming at full tilt.
It is 100% cotton and comes in full size range from Small to 3XL. Now wouldn't your best friend like to have this t-shirt, or maybe yourself.
Everyone needs a T-Rex t-shirt, so why not go with the Patrick Star Meets T-Rex T-Shirt.