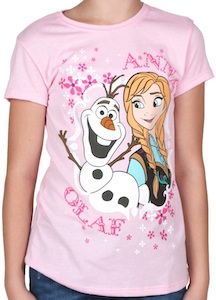 Did you and your family fall in love with Anna and Olaf from the wonderful Disney movie Frozen?
Well, if so your daughter will love this pretty Frozen Anna and Olaf t-shirt to wear to school or a fun day out with friends.
This beautiful Olaf and Anna pink t-shirt features the pretty Anna from the waist up showing the bodice of her dress and her long strawberry blonde hair braided into two braids with her name Anna wrote in text above her head. It also features the cute funny Olaf the snowman jumping for joy with is stick arms up in the air with a big smile on his face with his name Olaf wrote in text under him and snowflakes in pink and white surrounding them both.
The pretty Anna and Olaf t-shirt is available in girls youth sizes from 8, 10, 12 and 14.
Let Anna and Olaf help you build a snowman while you go outside wearing this cute Frozen Anna and Olaf Snowflake Girls T-Shirt.