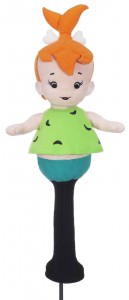 Flintstones fans and Pebbles fans this is exactly what you need for your golf bag and clubs.
Featured on this golf club head cover is the very cute and adorable Pebbles from the hit series of television and movie series The Flintstones, find Pebbles in a green shirt with a light blue bottoms and her firey red hair up in a high pony tail on the top of her head.
This golf club head cover is made to fit up to a 460cc golf club head and has extra padding and a tight fitting long sock all to help maximize your golf club protection from bumps and scratches.
Get a closer look at the Flintstones Pebbles Plush Golf Club Head Cover.