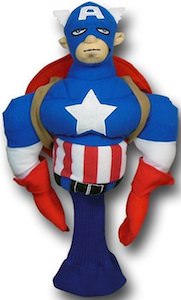 Worried about damaging you golf clubs head?
The worries can be over when you get a superhero to protect it and this time Captain America is here to help.
This golf club head cover is a 3D character cover that looks just like Captain America complete with the blue costume with the big star and the shield on his back.
Not only does the Captain America golf club head cover protect you club it also makes it easier to find the right one.
The golf club head cover will fit a club up to 460cc and is about a foot long.
Lets make those clubs look fun with this Marvel Captain America Golf Club Head Cover.