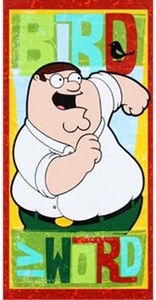 There is Peter Griffin from Family Guy doing his dance like you could have seen in the scene about Bird is the word.
On this towel you find Bird on top and word with the greater of equal to sign on the bottom and Peter Griffin in the middle.
This towel is 30 x 60 inches and the perfect size for the beach or just at home.
If you like Family Guy you will love this towel so don't wait to long and go check out this Family Guy Peter Griffin Beach Towel.