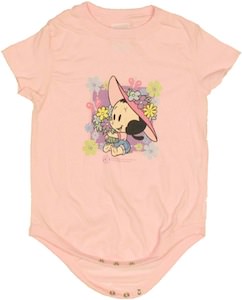 There is Olive Oyl the girlfriend of Popeye but here Olive is still a little baby.
And that of course is a good reason to have Olive printed on a baby bodysuit.
As you can see on the picture the bodysuit is a pink color with colorful picture of baby Olive Oyl sitting with a big pink hat surrounded by flowers.
Will you baby like classic cartoons? If you are not sure then mayb starting it early will help.
This Popeye bodysuit comes in sizes from 0 to 18 months and is made of 100% cotton and has an easy to use snap system so that changing babies diaper is easy.
Come and have a closer look at this Popeye Baby Olive Oyl Bodysuit.