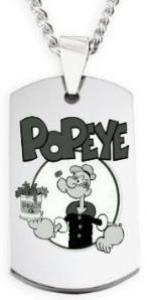 "I'm Popeye the Sailor Man. I'm strong to the finich Cause I eats me spinach."
Do you love the calssic series of Popeye the Sailor Man, if so then check out this cool dog tag necklace with "POPEYE" and a great image of Popeye holding a can of spinach all engraved on this dog tag.
The dog tag is very high quality and comes with a chain that is 30 inches in length, the measurments of the dog tag are 50 millimeters in height x 30 millimeters in length x 2.1 millimeters in width.
Have a closer look at the Popeye Dog Tag Necklace.