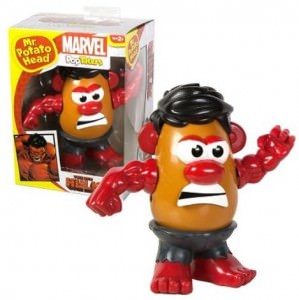 The Red Hulk, no The Incredible Hulk did not change colors this is one of his nemisis, a Marvel Comics villain know as Thunderbolt Ross AKA: Red Hulk.
This is a classic toy of Mr. Potato Head combined with the awesome Marvel Comics villain Red Hulk, find an angry face, red ears, arms and red legs with ripped blue jeans and a head of black hair all making up the Red Hulk.
You can play and enjoy this Mr. Potato Head and it will mix and match with all Mr. Potato Head figures or collect it as it does come in a very cool and detailed window box to display and keep it in mint condition.
Collect and play with Marvel Comics Red Hulk Mr. Potato Head.