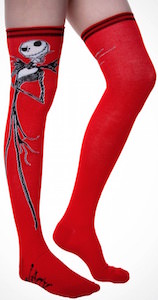 These women's socks are red and come to over the knee but that is not the most important feature of these ladies socks.
On the side of the socks you can find Jack Skellington from The Nightmare Before Christmas and Jack is tall so he comes almost from the bottom to the top.
And on the foot part there you also find his name "Jack".
Socks like these are perfect for any day of the year but they are red making them also perfect for Christmas when you can wear them with a fun dress or skirt.