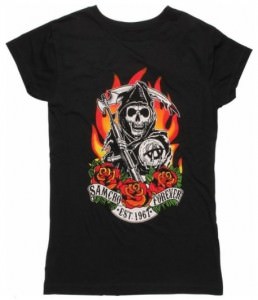 On the front of this t-shirt you will find the classic Grim Reaper logo just like the patch worn by the motorcycle gang on the hit television series Sons Of Anarchy. Around the Grim Reaper find flames behind it with three roses in front and the saying on a banner of "SAMCRO FOREVER EST 1961".
Made from 100% cotton to give you a really durable long lasting tee and very comfortable, it is available in a wide selection of ladies junior sizes that range from Small to XL and will fit snug and hug the bodies curves.
Check out the Sons Of Anarchy Samcro Forever Red Rose T-Shirt.