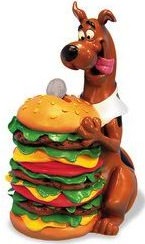 Scooby-Doo loves to eat but if he keeps eating like this he can afford any more because food cost money.
So help Scooby save for the next meal by putting money in this Scooby-Doo Hamburge money bank.
The hamburger that is where the money goes in to and as Scooby-Doo is connected to it he will keep any eye on it.
This is a very special Scooby-Doo item and you should come have a better look a this Scooby-Doo Hamburger Money Bank.