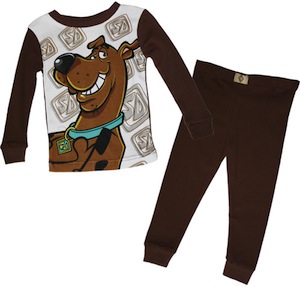 Scooby-Doo the fun but slightly crazzy dog we all love from the TV is now printed on these cool kids pajama's.
They come as a set with brown pants and a shirt that has brown sleeves and a white middel parth that shows Scooby's logo and of course a big picture of Scooby-Doo smiling.
These pajama's are availible in sizes 2T, 3T, 4T, 4, 5, 6 and 7 so your toddler or boy will be happy. And these pajama's are made out of 100% cotton.
Time to give some nice and warm Scooby-Doo Pajama's.