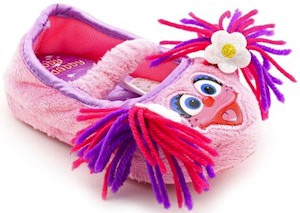 Are you looking for the perfect pair of slippers for around the house so that your little girl does not have cold feet?
I think we found the perfect pair.
These Abby Cadabby slippers look super cute and of course are warm.
As you can see the main color is pink and it has Abby's face on the front with her fun colored hair sticking out on the sides.
You can get these Sesame Street slippers in sizes 5 to 10 (toddler sizes) and they are gone look so fun on your kids feet.
Make your little girl happy with this pair of Sesame Street Abby Cadabby Slippers.
You may also like: