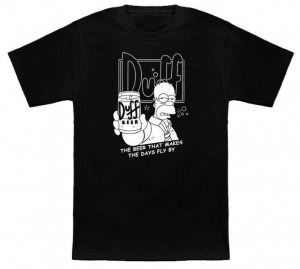 Homer Simpson and Duff Beer go together like…. well Homer Simpson and Duff Beer.
On the front of this shirt you will see a white advertisment for the popular Simpsons beer and Homer Simpsons favorite Duff Beer, find the official Duff logo with Homer holding a can of Duff Beer and the saying "The Beer That Makes The Days Fly By".
This Simpsons t-shirt is available in a wide selection of sizes that come in a range from Small to 6XL so all Duff Beer fans can enjoy, made from 100% cotton to give you that very durable yet soft a comfy tee for all occasions.
Have a look at the Homer Simpson Duff Beer Ad T-Shirt.