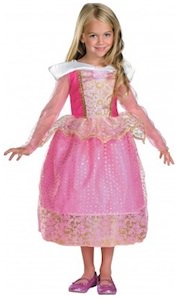 There whe have Princess Aurora oh wait this is not the real Sleeping Beauty but it is hard to tell.
This is a Sleeping Beauty costume and now you child can play to be her favourite princess, princess Aurora.
As you can see on the picture above this dress is stunning and looks exactly like the one Princess Aurora wears.
You can get this dress in sizes 4-6x and 7-8 and this dress has so much amazing gold details that the kids will believe they became a real princess.
If you daugther wants to dress up for Halloween as Aurora or just to play this is the dress that can make it happen.
Come have a closer look at this Sleeping Beauty Princess Aurora Dress.