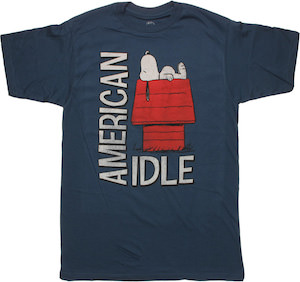 Are you an American Idols fan or more like Snoopy and American Idle fan?
I would go for the idle one any time.
This Snoopy t-shirt is navy blue and shows Snoopy taking a nap on top of his red dog house.
Around the picture of Snoopy it says "American Idle" I guess it's because Snoopy taking a nap again.
This is a fun Peanuts t-shirt that comes in a standard fit and has a distressed look. The Snoopy shirt is made from 100% cotton and is available in sizes Small – XX-Large.
If being idle is your thing then maybe support Snoopy by wearing this Peanuts Snoopy American Idle T-Shirt.