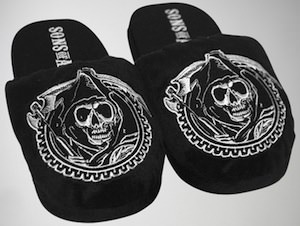 After a long day riding around on you bike you want something warm and comfortable on your feet.
These Sons of Anarchy slippers are gone feel like heaven on earth.
The slippers are black and have a big reaper logo on the front and the text "Sons of Anarchy " on the footbed.
You can get these plush Samcro slippers in adult size Small – Extra Large. And these Sons of Anarchy slippers are an officially licensed product.
Maybe you should not wear these slippers to you biker gang but they are perfect for around the house.
No more cold feet when you wear these Sons of Anarchy Slippers.