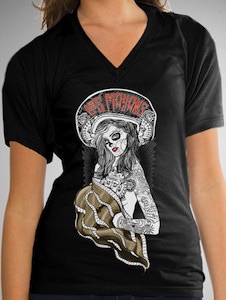 This V-neck t-shirt is all about the Mayans Motorcycle Club one of the gangs from the Sons of Anarchy TV series.
On this black t-shirt you see a girl hidding a part of her naked body behind a blanket.
Maybe she is one of the Mayans prostitutes. On top of her head is says "Los Mayans" and on her chest she has the logo of this motorcylce gang tattooed.
This Sons of Anarchy t-shirt comes in a range of women's sizes and has a junior fit.
If you like Sons of Anarchy then at least have a closer look at this Sons of Anarchy Los Mayans Womens T-Shirt.