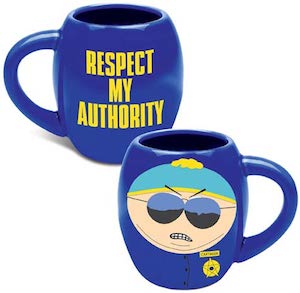 For all you South Park fans out there.
You don't want to mess with Cartman when he is in a policeman's uniform riding on his tricycle.
Remember this episode and laugh when drinking from this special respect my authority Cartman mug.
This Cartman ceramic mug is an oval shape and holds 18 ounces of your favorite hot beverage.
It is a blue mug with a picture of Cartman in his police uniform wearing a pair of sunglasses on the front. On the back are the words "respect my authority".
Take yourself to South Park and have a laugh when drinking from this South Park Cartman Respect My Authority Mug.