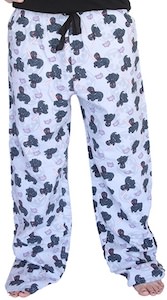 Are you a Star Wars fan?
Go to the dark side in your dreams. These Darth Vader pajama pants will defiantly take you to another universe.
They are ladies 100% cotton flannel pajama pants. That will keep you warm on those crazy adventures that the Sith Lord Darth Vader will take you on while you wear them.
They are covered all over with his name and little Darth Vader's holding a light saber ready to fight his enemies Obi Wan Kenobi and Luke Sky Walker.
You can get these women's Star Wars Pajamas in sizes small – 3XL and fits true to size.
Go on a crazy adventure to another galaxy in a pair of these cool Star Wars Darth Vader Pajama Pants.