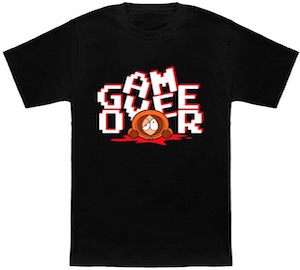 This t-shirt seems to show the end of Kenny one of South Park interesting characters.
You can get this South Park in a bunch of colors and in styles for men and women.
On this t-shirt you can see Kenny lying a pile of blood with on top of him the words "Game Over" and they have seem to crush him.
And you know this t-shirt comes in many sizes so that even Carman could fit in one. The South Park t-shirt comes in sizes Small – 6XL.
Get ready to show the world that it's game over for Kenny by wearing this special South Park Game Over Kenny T-Shirt.