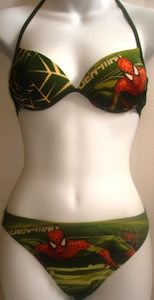 Women like Spider-Man to and now you can show people that on the beach.
This Spider-Man bikini is availible in green and blue and comes as a 2 piece set.
You can find pictures of Spider-Man on the front of the bottoms and on one of the cups from the top. On the back of the bikini bottom it says Spider-Man.
This Spider-Man bathingsuit is availible in sizes 6-8 and 8-10.
A new summer brings the need for a new piece of swimwear and what better then getting a superhero bikini.
Come check out more and better pictures of this Spider-Man Bikini.
You may also like: