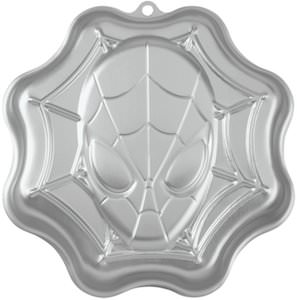 Are you throwing a Spider-Man theme party?
Every party needs to have a cake so why not start by making a cool amazing Spider-Man cake made in this Spider-Man cake pan.
This awesome Spider-Man cake pan features Spider-Mans face in the middle of the pan with a web design around his face.
It is a aluminum cake pan made by Wilton and holds any 2-layer cake mix and measures 9.5 x 14 x 2 inches in size.
You and your friends will have some fun games and adventures at your Spider-Man theme party.
Enjoy a piece of cake made in this cool amazing Spider-Man Cake Pan.