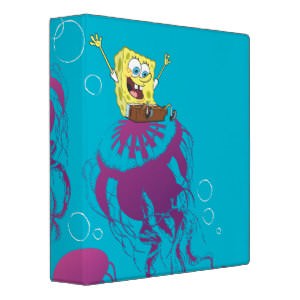 You can never have enough binders whether you need them for school, work, photos or scrapbooking.
Brighten up your day with this SpongeBobSquarePants 3 ring binder for papers 8.5" x 11".
The front and the back of this binder show SpongeBob playing in the blue ocean and riding on a large dark pink/purple jellyfish from Jellyfish Fields.
This Avery Signature Wonders of the Sea binder comes in 3 widths, 1" holding 175 sheets of paper, 1.5" (375 sheets) and 2" (500 sheets) and comes in your choice of 2 ring types.
Add another binder to your supply with this SpongeBob Jelly Fish 3 Ring Binder.