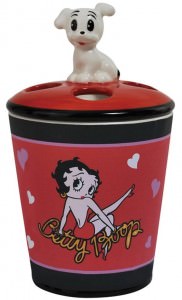 Adding to your Betty Boop bathroom set, or starting a Boop themed barhroom this is a must have.
This toothbrush holder has a painted on image of Betty Boop with her leg up, a classic pose she has been seen in many times. Also find white and pink hearts all over with a red background, the awesome feature is Betty Boop's furry dog friend Pudgy is found on top carved 3d out of ceramic.
Made from ceramic this Betty Boop toothbrush holder stands 6.5 inches tall and holds up to four toothbruhses.
Add this to your Boop! collection get this Betty Boop Pudgy Toothbrush Holder.