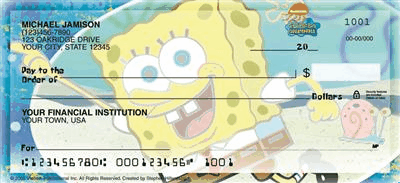 The checks that your bank gives you are the boring kind but there is no reason not to change to someting more fun.
For instance you can get checks that have pictures of Spongebob and his friends on them.
This set of personal checks has Spongebob Squarepants, Patrick Star, Squidward and Sany Cheeks. That means you get 4 different check designs in each check book .
Sending money can't much more fun then with these Spongebob Checks.
Come see them up close and order you own Spongebob Squarepants And Friends Checks.