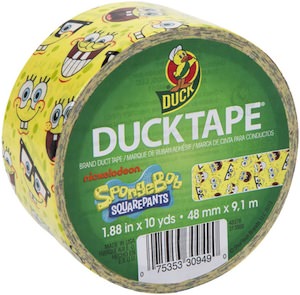 Nice and yellow Duck Tape that is what we need instead of the boring grey tape that you normally get.
Duck Tape is ideal for fixing almost anything and now it gets even more fun.
This is yellow Duck Tape with SpongeBob printed all over it.
This Duck Tape has SpongeBob's face in all kind of ways printed on it and that makes it great for decorating or just fixing.
For instance make a boring bag into a SpongeBob Squarepants bag just by putting some tape on the edges.
The sky is the limit with this SpongeBob Squarepants Duck Tape.
So don't hesitate come and have fun with this SpongeBob Squarepants Yellow Duck Tape.