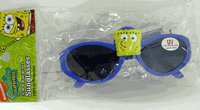 Keep your kids eyes save with these cute Spongebob Squarepants sunglasses.
The frame of the glasses is nice and blue and Spongebob is right there on the nose bridge. This will make your kids wear there sunglasses because Spongebob is cool. This could be the easy way in getting some UV protection for your kids.
Go order some nice Spongebob Squarepants Sunglasses.