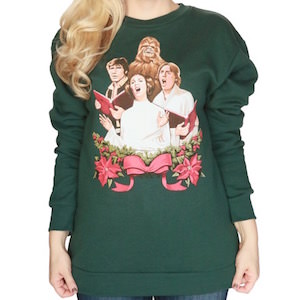 Now there is a Star Wars Christmas sweater for women that like Christmas songs.
Because on this Christmas sweater you can see Luke Skywalker, Princess Leia, Chewbacca and Han Solo singing carols. And besides the singing Star Wars characters this sweatshirt also has green and red Christmas decorations to make the Christmas sweater even better.
This Star Wars Christmas sweater is available in women's sizes XSmall – 2XL so that many can enjoy the joy of Star Wars and Christmas this year.
Wearing this ugly Christmas sweater to a party this holiday season may look like you are a geek but I think it makes you look like a women of the world.