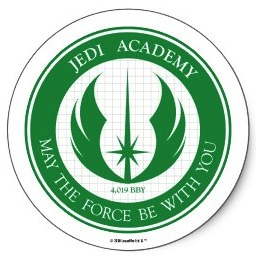 Before you can become a Jedi you first have to go to Jedi Academy and of course you want prove that you learned how to be a Jedi and that is why we found this Sticker.
This Jedi Academy Sticker shows the Jedi logo in the middle and on top it says "Jedi Academy" and below the logo it says "May the force be with you".
The Jedi Stickers come in sheets of 20 or 6 depending on the size you choose and are great to stick on almost anything like books, laptop, phone, fridge or what ever you can think of.
Become a Jedi today and tell the world that you went to Jedi school with this Star Wars Jedi Academy Sticker.