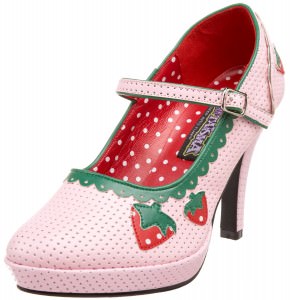 Bery Cute, Berry Stylish, Berry Fun, Berry Berry Sexy………Ok I could go on for a Berry long time 🙂
This is a beautiful pair of platform pumps that are based after Strawberry Shortcake, the fun and loving television and movie character.
Featuring a delicate color of soft pink with nice green trim and red and green strawberry designs on the side at the front and back. The Contessa-58 platform pump features a very sleek and sexy 4″ heel, and has red with white polka dots lining the inside.
This is a pump for all occasions dress up for dinner or add it to a costume, either way i'm sure these Strawberry Shortcake platform pumps will be among your favorite pairs of high heel shoes.
You can find these in sizes 6 to 12.
Get your Strawberry Shortcake Platform Pump.