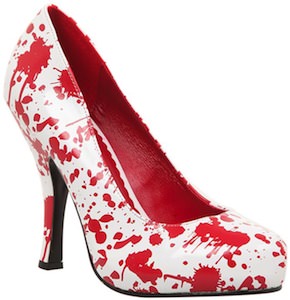 How about a nice pair of heels?
These pumps have a 4″ heel and are kinda white.
OK they where white but then some blood came in contact with it and now they are white pumps with blood spatters.
Of course if you are one of Dexters helpers then that could happen it could even happen while doing some zombie killing.
These pumps are made from man made materials and come in a range of sizes from 6 – 11.
So if you like some different heels then you have to check out these White Blood Spatter Pumps.