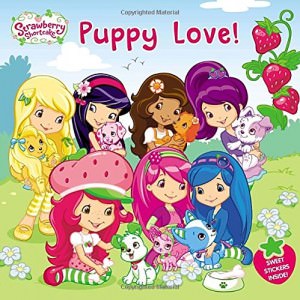 Strawberry Shortcake has come a long way since the 1970's but is loved just as much by young girls and boys today. Add this gem to your repertoire of nightly storybook reading.
The pages in this book are full of color and contain all of your favorite cute Strawberry Shortcake characters like, Plum Pudding and Orange Blossom.
This lovely children's book contains 24 pages and one is a sticker page. It is geared to ages 3 to 5 years of age and measures approximately 8 inches by 8 inches. This Strawberry Shortcake book is written by Amy Acklesburg.
Read along with your friends with the Strawberry Shortcake Puppy Love Book.