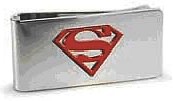 Why carry around an old fashion wallet when you can have something that is not only better but definitely looks so much better.
This money clip is made out of metal and has the Superman logo on it. Now you can be the man of steel with this steel money clip.
Superman will personally keep an eye on your money as long as it is stored safely in the Superman money clip.
Don't waste any more time and go get your own Superman Money Clip.