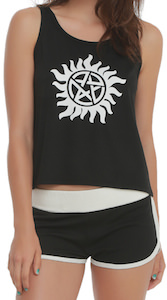 Do you have a lot of scary dreams at night?
Well, don't let those bad dreams frighten you anymore when you wear these cute Supernatural anti possession pajamas to bed because the monsters and demons will stay away.
This cute girls black two piece Supernatural anti possession sleep set features a white anti possession symbol on the front of the tank top style top witch on the back has the words "Sam Winchester" and the number 83 . The shorts are black with a white waist band and have white stripes down the sides and the bottom of the shorts.
The anti possession symbol sleepwear set are available in junior sizes from Small to XL.
You will go to sleep and dream of fighting off and keeping those supernatural creatures away with the hot sexy Demon Hunters Sam and Dean Winchester when your wearing these cute two piece Supernatural Anti Possession Pajamas.