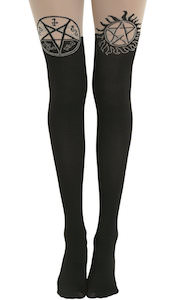 If you are a true fan of Supernatural then these tights are something that you should have a closer look at.
These women's tights look like they are only thigh high but they are not they are black up the thigh and then they are see through till the top and in between you can find two famous Supernatural symbols.
One leg shows the anti possession symbol and the other leg has the devils trap symbol and both of course can be helpful when you need one of them.
These Supernatural tights are made from 90% nylon and 10% spandex and are available in sizes Small – Large.
You may also like: