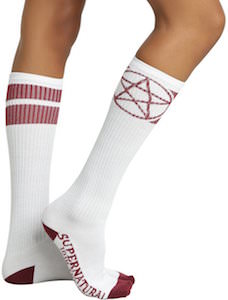 Now you can have white knee high Supernatural socks that have some cool red details.
These socks are great for men and women that like Supernatural and they come in one size fits mosts.
The knee high socks have stripes on the top and the devil's trap and the heel and toes are red and on the bottom, it says "Supernatural Join The Hunt".
Socks like this are great for every day and you can wear them openly with shorts or a skirt or hide them by wearing jeans.
And these Supernatural socks are made from 68% acrylic, 30% polyester and 2% spandex for that perfect fit and feel.
You may also like: